Theme Park Ride Designer and Engineer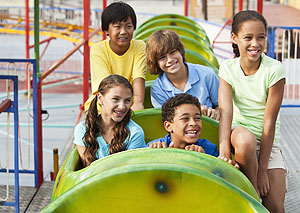 Imagine that you are standing in line to get on a theme park ride. It is a beautiful summer day, and the park is packed with friends and families. In the distance you hear screams of joy and a little fright! Everyone getting off the ride is grinning and you are getting excited to get to the front of the line.

Getting on the ride, you are transformed back in time. The ride is a dinosaur roller coaster and your cart is shaped like a giant Pterodactyl and you fly up and upside down through a prehistoric land. What adventures would you like to create for your flight? How about entering a dark tunnel filled with sounds of animals at nightfall, or perhaps you'd like to pretend to fly high into a sunlit sky. Those are the kinds of things that Theme Park Ride Designers and Engineers think about! They seek to not only create a theme park ride --- but an adventure!

Theme Park Ride Designers and Engineers must be highly creative so they can create unique and fun experiences for everyone attending the park. It takes a big team to invent and build a new theme park ride or show. As such, Designers and Engineers must have strong teamwork and leadership skills.

Ideas for new rides and shows are often the result of brainstorming with teammates. Next, sketches are often drawn on paper with a blue pencil. Blue pencil drawings are popular because they allow the designers to share their ideas, without having to assign other colors to the pictures. This allows the team to focus on the idea, instead of other details that they will talk about later. Blue pencil lines are also much easier to erase than traditional gray pencils made of graphite and are easier to cover with darker pencils and pens after the drawing is more finalized.

Next, designers utilize computer programs such as AutoCAD and SketchUp to create two and three dimensional models. Miniature models are another essential step in design. Models are usually created with foam, toothpicks and minimal glue because many things about the design are likely to change. As rough and messy as it may be, models can help the team improve the design.

Designers and Engineers are often hired to work on a specific project. As a result, when that project is complete, they often move or travel to a new location for their next job. Theme Park Ride Designers and Engineers obtain college degrees in art, architecture, industrial design or engineering.

Find Out More:

Read a theme park magazine – The International Association of Amusement Parks and Attractions (IAAPA) is one of the leading organizations in the industry. Click the link below for free access to current and prior issues of the magazine, "Funworld"! While new articles are included each month, you're sure to learn about new theme park rides and related news from around the world.
Build a Virtual Roller Coaster Track – Click the link below to build a roller coaster track on a free website provided by Discovery KIDSTM.
Learn about SketchUp – SketchUp is software often used by theme park designers to create three dimensional models. The basic version of SketchUp is free, and may be downloaded from the website below:
SketchUp has been used in many elementary classrooms. To see training videos and examples of student's work, click the links below. While these examples do not include any theme park rides, try to imagine all the different rides that could be drawn.