Bicycle Courier / Messenger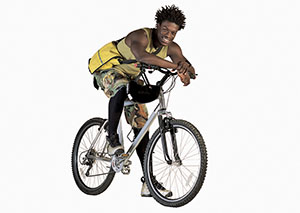 Bicycle couriers are individuals who work for courier companies (also known as messenger companies), delivering items for the company by bicycle.  Most bicycle couriers are found working in big cities, as companies often hire them to avoid the usual traffic jams and parking limitations cars have in bigger cities that can cause delivery delays.  Bike couriers handle and deliver important documents and very time-sensitive materials for large corporations, small businesses, medical doctors, banks, law firms, and government institutions.  Bicycle couriers must deal with loading and unloading of packages, recording, checking and confirming delivery information, as well as handle payment information. 
To be a bicycle courier, a good degree of physical fitness is required, given that you spend most of your day riding a bike!  Strong communication skills are also a must for couriers since they are often the main link between a company and its customers, and it is important that they make a good impression.  There is no advanced degree required for this job, but a high school diploma is usually a must.
Read: Messenger, Messenger by Robert Burleigh