Storm Chasers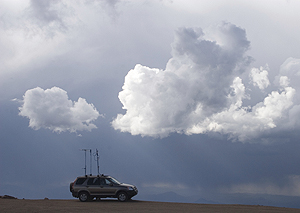 Chasing storms is not a paid occupation. People chase storms because they enjoy watching the weather. Some people do earn money from selling photographs of storms but this would not provide a full-time salary. Other people have been known to operate a small business, taking people on "tours" of storms, but this is most likely a part-time job.
Storm chasing is a very dangerous hobby. You should not attempt to chase storms without prior preparation and knowledge. It is important to read information concerning severe weather, contact an experienced chaser and contact the National Weather Service about enrolling in a SKYWARN training class. You are responsible for your safety if you choose to chase storms.
If you are interested in watching and studying weather, perhaps consider a career in meteorology. This requires four years of college and a lot of work with computers. You could then work in various jobs including reporting the weather on television or working for the National Weather Service.

Find Out More: